From the trainer's desk: January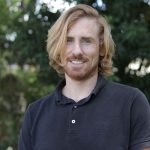 The students enjoyed their Christmas and New Year holidays and returned to STEPS Pathways College energised and ready for 2018. We were also excited to welcome a new face to campus who has instantly fitted in well with our tight-knit student group.
We've jumped straight back into our learning areas, covering topics like finding and maintaining a rental property and being a good neighbour. As a part of our regular off-campus learning activities we visited our local McGrath Estate Agents office in Caloundra. The team there were able to help give our students insights about tenancy agreements and a tenant's rights and responsibilities in Queensland. This will certainly be helpful as some of our students start looking at where they might want to live after they graduate and move out of their College apartments.
The students also enjoyed weekend trips this month to Buderim Ginger Factory and the Gallery of Modern Art in Brisbane. They particularly enjoyed the exhibitions currently on display and catching the train to the city. In February students are researching and planning trips to Maleny Botanic Gardens and Sunshine Castle.
Students are also learning about preparing for the workplace. We'll invite select guest speakers to the College to share information about some of their preferred employment industries. I look forward to updating you again soon!
Until next time,
Jason
STEPS Pathways College Trainer