From the trainer's desk: May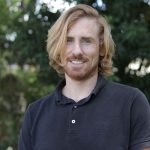 At STEPS Pathways College this month we studied one of my favourite topics, healthy living skills. Healthy living skills are such an important aspect of living independently. We last visited this theme about six months ago, so it was great to see how much the students had retained. This time around we built upon those skills even further through some new and different activities, both in and out of the classroom.
In the classroom we learnt about mental health, physical health and spirituality, and how these all relate to overall wellbeing. One of the popular activities we did this month involved giving each student a chance to lead an exercise class with the rest of the group. We had some great discussions before and after exercising, which allowed the students to identify some of the many benefits of physical exercise, like improved moods and feeling energised. One of my highlights was seeing a student who usually shies away from sports and physical activity really take part in the exercise sessions. It was great to see her join in and particularly enjoy the social benefits of physical activity.
Many of the students have been creating their own meal plans, grocery shopping and cooking independently for several months now. In one of our nutrition sessions we visited their pantries and students identified where a variety of their foods fit in the food pyramid. It was awesome to see the group build on their nutrition skills and be able to point out healthier options. We've noticed great improvements in their diets compared to six months ago, and the students are really gaining a greater understanding about the importance of the food choices they make. One of my favourite "small wins" of the month was seeing one of our students now putting tomato on their toasted sandwich!
One of our boarding students had their birthday this month and we celebrated with one of their favourite activities: bushwalking in Noosa National Park. We're lucky to be on the Sunshine Coast and have a huge selection of national parks and beautiful coastlines right on our doorstep!
Another highlight of the month was the STEPS Pathways College Open Day. Over 100 families came to visit us on the Open Day and learn more about the College, tour the Murphy House student accommodation and talk to STEPS staff. Each of our students had a role to play on the day and they were amazing ambassadors for the College. As a trainer I'm in a privileged spot to get to see our students harness their confidence and watch their self-esteem grow through activities and events like this.
In the coming weeks we'll be further developing our social skills, which will be perfect in the lead up to some exciting events we have planned!
Until next time,
Jason
STEPS Pathways College Trainer