From the trainer's desk: September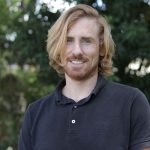 Staying safe in the community is such an important aspect of being an independent adult, and it was our overarching topic this month at STEPS Pathways College. In the classroom, we looked at things like pedestrian safety, road safety and taking precautions on public transport. We learned about staying calm in sticky situations like when you miss a bus or get off at the wrong stop. Another important lesson was being assertive and being able to tell a driver to slow down when they are speeding.
We had a visit from a police officer, Peter, complete with handcuffs and a police car! Peter gave us some great tips for making smart decisions about safety in our homes and while out and about. The students also had the chance to sit in the back of the police car – something we're sure will be a rarity!
My favourite learning activity of the month has been when we took the skills we were learning and practised them outside the classroom. The students set off in teams on an "Amazing Race" style challenge across the Sunshine Coast. To get the clue to their next destination, the students had to successfully answer questions about travel safety. The students had a lot of fun and it was great to see their confidence and teamwork shine.
On weekends and afternoons the students are continuing to plan their own recreational outings. We've had a few unseasonably warm days where most of the group have loved walking over to the local pool and going for a swim. The students have also enjoyed a trip to Sea Life Aquarium in Mooloolaba and the Big Pineapple. We also went out for a group dinner at Bellvista Tavern to celebrate the end of a great term.
Our boarding students at Murphy House rolled up their sleeves to give their units a thorough clean before the break. When we come back to class in October we'll be joined by some new students and I'm confident our current students will make them feel welcome, just as they have before.
Until next time,
Jason
STEPS Pathways College Trainer